September News
What have we been up to...
We have held meetings with the Spark Arts in Leicester, Fife Council, the Jennie Lee Foundation, 11 by 11, the Open College of the Arts, and Wicked.
We have attended WhatNext, the Westminster Forum, the Cultural Campaigning Group and Tom Watson's Creative Industries Federation event.
---
ACA member Miranda Thain wrote an article about why she is a member of ACA.
The Hullabaloo stands in one of the 1% most deprived wards in the UK, many worlds away from the corridors of Whitehall and yet, through being part of an organisation like Action for Children's Arts, we feel that we have a voice in influencing the future cultural opportunities of our children nationwide. It may just be a small corner of this confusing world, but together we can make it better.
---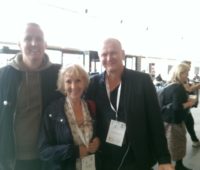 ACA Chair Vicky Ireland MBE met the minds behind the Norwegian Cultural Rucksack in Oslo.
She also met the new children's laureate Cressida Cowell at the Chiswick Book Festival 2019. We love Cressida's charter for children's reading, which you can take a look at here.
This is only part of the September newsletter. Click here to get the full thing to your inbox every month.