More Than A Score Campaign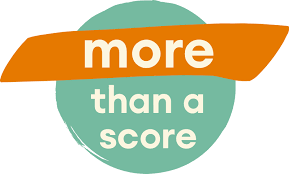 More Than A Score are an organisation campaigning against the government's high-pressure tests in primary schools. They support school leaders and teachers who want to stimulate young minds and expand their knowledge and creative problem-solving skills, rather than having to "teach to the test".
Unfortunately, Ministers have seen fit to reintroduce SATs, and other new tests this year, and it's had a devastating effect on children's wellbeing. Year 6 pupils were recently ask how they are feeling about the upcoming SATs tests, which start from 9 May, and it was discovered that:
60% are worried about the tests
One in ten aren't sleeping well because of the worry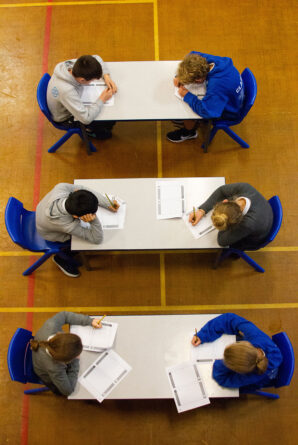 In some schools, they have been sitting practice papers since September and this has had an inevitable impact on the curriculum:
72% of pupils aren't spending enough time on the subjects they enjoy and the subjects they're missing the most are: art, music, sport and drama.
Teachers are working incredibly hard to prepare for the tests without any unnecessary pressure but that's proving to be very difficult.
There are a number of ways to get involved as teachers, parents, carers, and organisations that work with young children. Please visit 
More Than A Score's website
 to join the campaign and find out what you can do to support.
---
Branching Out survey
Exploring nature through arts-based activities with children
The Branching Out project aims to establish how the practice and impact of arts-based nature activities can be scaled up to reach more children through volunteers as 'Community Artscapers'. This will involve the development and pilot of a 'Branching Out Model' and toolkits to support the delivery of arts-based nature programmes by arts organisations and volunteer Community Artscapers in primary schools.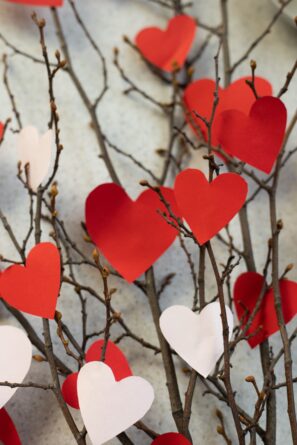 The research is led by Professor Nicola Walshe from University College London, along with researchers from Anglia Ruskin University. The pilot will be led by arts charity Cambridge Curiosity and Imagination, alongside Cambridge Acorn Project, who undertake therapeutic work with children, in partnership with Fullscope, a consortium supporting children's mental health. Branching Out is funded by a partnership led by the Arts and Humanities Research Council under the UK Research and Innovation 'Scale up health inequality prevention and intervention strategies' fund.
The project is looking for arts organisations and practitioners exploring nature through arts-based activities with children and young people to take part in the Branching Out Survey. The survey aims to map existing activity across the UK and to register interest in joining a national network and potential future involvement in the Branching Out programme.
---
BAFTA Kids Young Presenters competition 2022
Earlier in the month entries closed for the BAFTA Kids Young Presenters competition 2022. This year, the age categories were changed to 10-14 and 15-18 which means there will be two winners, and entrants were asked to create a short video on this year's Children's Mental Health Week theme – Growing Together.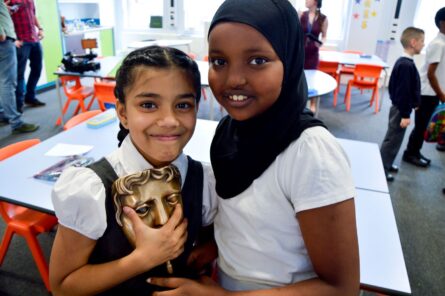 Winners will have the opportunity to host BAFTA's content for children and young people as well as attending special events at BAFTA's London HQ.  Previous winners have gone on to interview A-list stars at various BAFTA events, including Tom Hiddleston and BAFTA President HRH The Duke of Cambridge, as well as presenting on popular children's television shows and at events around the world.
In 2021 ACA presented the Outstanding Contribution Award jointly to BAFTA Kids and Place2Be, as part of our annual JM Barrie Awards. We look forward to seeing who will become this year's BAFTA Young Presenters!
---
ACA news to celebrate
We send our congratulations to ACA members Little Actors Theatre Company who won four awards at the 2022 Leverhulme Drama Festival!
Having entered four plays, directed by Artistic Director Samatha Giblin and directed by Mike Lockley, they won three youth awards and one adult reward.
---
David Almond OBE, ACA Patron, has been awarded the Nonino International Prize, the prestigious literary awards which celebrates its 47th year in 2022. Almond heads to Italy to collect it in early May, and we wish him a wonderful time.
Find out more about the prize and its history on their website.
---
ACA Campaign news
Earlier this month ACA Chair, Vicky Ireland MBE, spoke at a Westminster Forum policy conference on "next steps for funding in the creative industries". We will share more about this in our next newsletter.
---
The Arts Backpack Belfast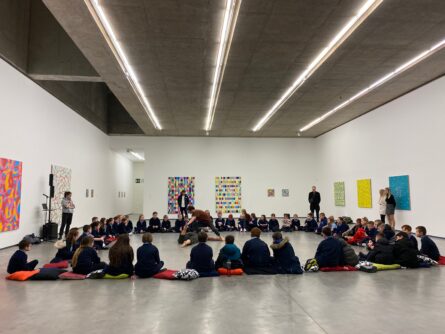 We're now three months into the Arts Backpack Belfast, which we are running in partnership with Young at Art. We are delivering the project in five primary school classes in North, West and East Belfast. So far, participating pupils have been to three experiences as part of the Belfast Children's Festival:
Birdboy, a dance performance exploring themes of mental health
No Man is an Island, a physical theatre performance in a public space
an exhibition of work by Alfred Wallis
All of these activities have included a Q&A, either with the artists involved or with specialist facilitators.
We've enjoyed hearing reports from our colleagues in Belfast about how engaged pupils have been with all the experiences, and look forward to sharing more pictures and footage with you as the pilot progresses. In the second half of the project we will be delivering drama and visual arts workshops in all schools, guided by conversations had with pupils during these first three experiences. We will also be offering some Continuing Professional Development opportunities to teachers in participating schools.
We are grateful to Arts Council Northern Ireland and the Worshipful Company of Haberdashers for their support of this pilot. We have more planned later this year in Leicester and Fife: Click here to support the Arts Backpack pilots.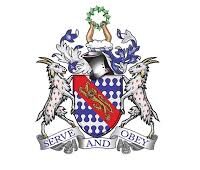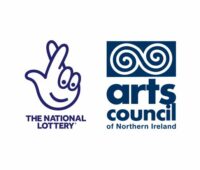 Opening paragraph
We hope all are keeping well and positive during news of the tragedy that has hit our headlines and our hearts. We have sent a letter of support to ASSITEJ Ukraine to say we stand with all our Ukrainian colleagues who work in theatre for children and young people. We send them our love and courage in these difficult times.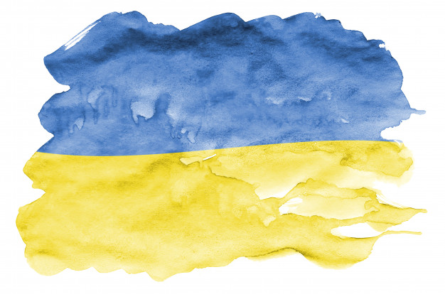 ---
Children's Mental Health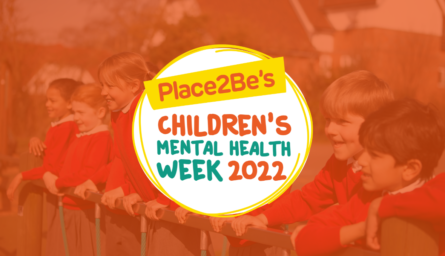 Launched by Children's mental health charity Place2Be, 2022's Children's Mental Health Week took place from 7-13 February.
This year's theme was Growing Together, as children (and adults) were encouraged to consider how they have grown and how they can help others to grow. You can look back at how the week went.
Their free resources for schools, families and youth groups are still available. All of the ideas can be adapted for use in school, for home-schooling, online lessons or independent learning.  These can be accessed via their website.
---
As part of the week, we wrote a blog on why our project the Arts Backpack UK – which we launched to ensure that every primary school child in the UK has at least five quality cultural experiences in the school year – supports children's mental health.
---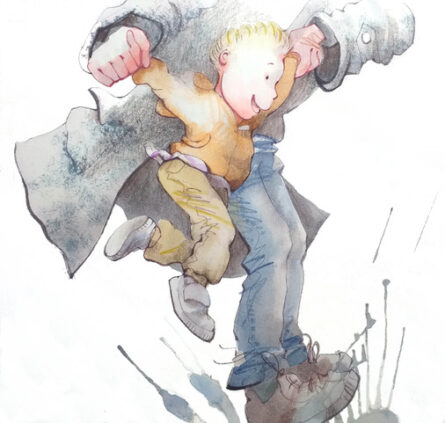 We'd like to share a thoughtful piece by award-winning writer Ross MacKay about his new book 'Daddy's Bad Day'.
This picture book has been created to help parents explain their mental health struggles to young children. The story draws on the writer's lived experience and research conducted with some of Scotland's leading parent charities. You can read his blog on our website.
Illustrations by Catherine Lindow . Due for release in August 2022, 'Daddy's Bad Day' can be pre-ordered through Curly Tale Books.
---
Campaign news
We responded with thanks to Lyn Gardner for her piece in 'The Stage' in support of theatre for children, and how it appears to have been forgotten during lockdown. She spoke with artists to hear how they are coping, adapting and what their hopes are for the future.
---
We also responded with thanks to RSC director of learning Jackie O'Hanlon's letter to 'The Stage', in which she urged the theatre sector to unite in combating the message that arts subjects at school are "less valued". She says "We need to oppose devaluing of arts in schools".
---
On behalf of ACA, Chair Vicky Ireland has signed The Children's Media Foundation (CMF) petition about the Young Audiences Content Fund Campaign.
The Open Letter, which you can read here, will be sent to the Rt. Hon. Nadine Dorries MP, Secretary of State for the Department for Digital, Culture, Media and Sport.
---
Commonwealth Connections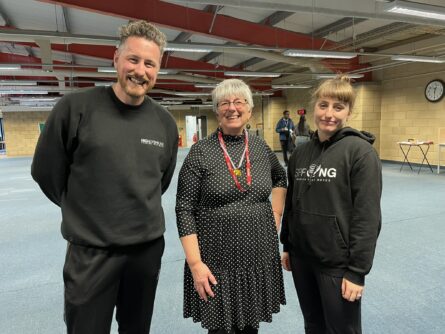 The 'Commonwealth Connections'  project has been established to develop cultural relationships between school communities in the West Midlands and in Commonwealth countries as part of the 2022 Commonwealth Games, which will take place in Birmingham from 28 July to 8 August.
ACA Critical Friend Julie Ward is Arts Lead for the 'Commonwealth Connections' initiative, and has written a piece about being involved in this very special project.
---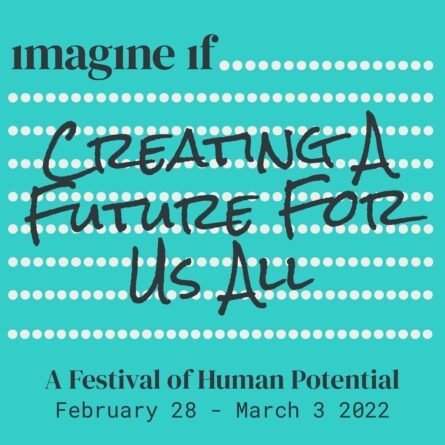 Imagine if... festival
This month hosts 'Imagine if… festival', an online celebration inspired by the life and work of former ACA patron Sir Ken Robinson, and curated by his daughter, ACA Patron Kate Robinson and her husband, Anthony.
In their own words: 'Imagine if... is committed to creating an experience that is truly a celebration of the diversity of skills and passions that make human existence so unique and special, and that are essential for our cultural ecosystems to thrive. We also deeply believe that there has never been a more important time to create a future for us all. These are big topics and big themes that deserve proper attention and care to address.'
The festival is running the entire month of March, and you can get involved via their website.
---
28 February saw the release of ACA Trustee David Wood's new book 'The See-Saw Tree', which is based on his successful play of the same name. With evocative linocut illustrations by Joanna Padfield, readers are reminded of the importance of the natural world. 'The See-Saw Tree' is available for purchase through The Book Guild publishing.
---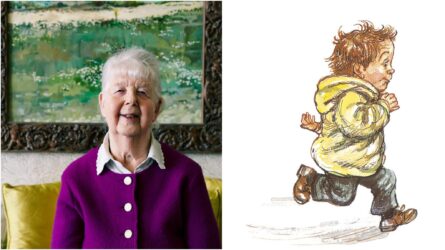 We are so very sorry to hear the news that children's author and illustrator Shirley Hughes passed away on 25 February, aged 94.
Shirley was a beloved patron and stalwart supporter of ACA for many years, winner of our J.M. Barrie Award for a Lifetime Contribution to children's arts in 2010.
Shirley was perhaps best known for creating the Alfie book series, as well as the wonderful children's picture book, Dogger.
---
The inspiration behind 'Daddy's Bad Day' - by Ross Mackay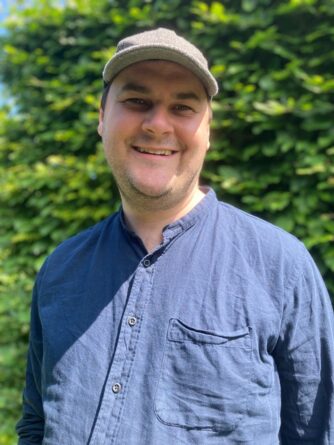 Award-winning writer Ross MacKay reflects on his new picture book 'Daddy's Bad Day', which was created to help parents explain their mental health struggles to young children. The story draws on the writer's lived experience and research conducted with some of Scotland's leading parent charities.
'My son Noah was born in June 2020. He is now almost 20 months old and is bursting full of fun, curiosity and mischievousness. Every week I am bowled over by how much he has learnt about the world around him. He has new words and new skills developing all the time. So, I am sure it won't be long before he asks the question Why is daddy in bed today?
And I want to have an honest answer that reassures Noah.
I have lived with a mental health disability for several years and when I knew I was going to become a dad, I began to search to see what support was out there. I had a little folder of resources saved on my laptop. Screengrabs of websites I found useful, a little list of charities that might be able to support us if I was in crisis, all sorts of things. But the one thing I couldn't find was a way to talk about my mental health to my child.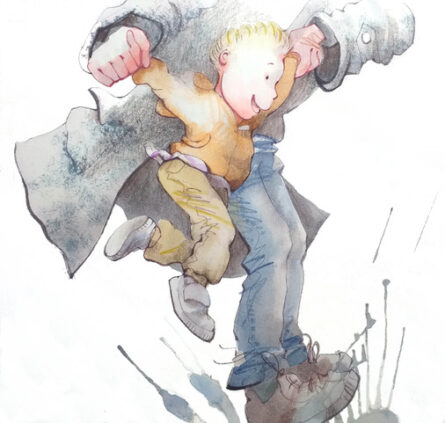 I began to wonder whether this was something I could create myself. As an artist, I knew this would be a challenge. I would need to do some proper research. I reached out to charities, mental health experts and other parents, gathering any advice they might have.
The culmination of that research was a short little text – less than 700 words – about a small boy trying to get his daddy out of bed.
This was the beginning of Daddy's Bad Bed Day
Now as me, an illustrator and publisher work towards publication, there is only one part still missing to bring this book to life, and that is the readers. Young and old. Parent and child. Or a grandparent or a fairy godmother perhaps. We are so excited to share some of the images and the story with an audience and we plan to do this with some events leading up to the publication. I hope the story speaks to children across the UK. I hope it helps make a difficult conversation just that little bit easier. I know I am going to reach for the book when my son begins to ask those tricky questions.'
Illustrations by Catherine Lindow . Due for release in August 2022, 'Daddy's Bad Day' can be pre-ordered through Curly Tale Books.
Why the Arts Backpack supports mental health
Here at Action for Children's Arts, we have been developing the Arts Backpack since 2018. The project started out with a focus on cultural entitlement, and whilst that is still at the heart of what we are doing, we have also had to re-focus our pilots to reflect a world that looks very different in 2022.
There is little doubt that the Covid-19 pandemic has had an effect on the mental health of children and young people. The government's  COVID-19 mental health and wellbeing surveillance report found that there have been 'significant increases in probable mental disorders in children and young people', impacting the lives of around one in six children and young people. The results suggested that primary aged children experienced increases in mental health symptoms during lockdowns, but showed some recovery post-lockdown, however children with special educational needs and from low-income households 'do not appear to show this post lockdown recovery'. Evidence suggests that the return to school has also worsened symptoms for children suffering with their mental health.
In light of this concerning research, we have incorporated a focus on mental health and wellbeing into our next phase of pilots – the Covid-recovery phase. We are also focussing on delivering in areas where there are high levels of child poverty, as this group has been particularly affected by the pandemic, and hope to work in special educational needs settings later this year.
A range of activities requiring differing levels of engagement and contribution from learners are designed to cater for children who might be anxious about coming back to school. Our Belfast pilot will aim to facilitate play, as a Child in the City report has found that participation in social play has dropped dramatically from 58.9 per cent to just five per cent during the pandemic. Children across all pilots will be encouraged to take part in reflective activities, helping them build expressive language and a stronger sense of identity.
Through our Continuing Professional Development programme, teachers will learn how to create their own programmes of resilience and cultural well-being. The appetite for this was strongly evidenced in the evaluation of the Fife preliminary pilot. We will also be encouraging teachers in England and Scotland to do Place2Be's Mental Health Champions programme. Place2Be were joint winners of the 2021 J.M. Barrie Outstanding Contribution Award.
With evaluation of all pilots due to be released at the end of this year, we look forward to sharing with you how the Arts Backpack supports mental health. Click here to support the Arts Backpack pilots.
The Arts Backpack comes to Northern Ireland
We are delighted to announce that the Arts Backpack will be piloting in Belfast from January - June 2022, in partnership with Young at Art. 
The scheme is modelled on similar programmes in Norway and Germany, and aims to offer primary-age children access to five quality cultural experiences a year. Following a successful pilot in Fife, Scotland, the Arts Backpack will now be delivered in five Belfast primary schools. Experiences on offer to children and their teachers will include trips to Belfast Children's Festival and the Mac. The aim of the project is to open pupils' eyes to the amazing array of arts and culture that is available on their doorstep.
Speaking about the Arts Backpack, ACA patron and acclaimed actress Jenny Agutter (Call the Midwife and The Railway Children) said: "The arts may reflect our society, or stir the imagination but unless we can relate to them on a fundamental level they will not become a part of our lives. The Arts Backpack might be the needed bridge."
This project is supported by Arts Council Northern Ireland and the Worshipful Company of Haberdashers. It is part of a nationwide scheme of pilots, the findings of which will be shared with an international audience at Belfast Children's Festival in 2023. 
A message from our Chair, Vicky Ireland MBE:
Hello Everyone,
In January we made a bold start to the year by holding both ACA membership and Critical Friends consultations. Thank you to everyone who gave up their time to share their ideas!
Then in February we held a virtual Board Away Day to consider all we had learnt and set out thinking for the year ahead, despite an uncertain future. We had a busy and productive year and attended meetings of:
The Drama and Theatre Education Alliance, helping to broker three ASSITEJ (the world Association of Theatre and the Performing Arts for Children and Young People) Zooms on Cultural Education
Performing Arts for Young Audiences England
APPGs (All Party Parliamentary Group) on "Children's Media and the Arts", and "Arts, Craft and Design in Education"
FED, looking towards a new curriculum
What Next?zooms convened by the Cultural Learning Alliance.
We discussed children and the arts in a zoom meeting with Wes Streeting MP, with regard to his paper, "ten by ten". Many thanks to ACA Critical Friend, Trevor MacFarlane, Director of Culture Commons, for his time and advice in setting this up.
We added our name to the campaign More than A Score and our Patron Jamila Gavin wrote a wonderful introduction for their recent report.
We held our J.M. Barrie Awards and many thanks to Trustee, Chris Jarvis for helping to produce them. It was wonderful to be able to demonstrate our admiration for Michael Rosen as a remarkable creative, compassionate individual, and to BAFTA Kids and Place2Be for their outstanding work in Primary schools during lockdown.
May I also say, as Chair of ACA, how grateful and proud I am of all that Mimi and the Backpack team have achieved this year, for all the fun and wisdom our Young Voices have shared with us, and the on-going help from the Trustees and Critical Friends who offer their advise and time with such generosity. Plus a big welcome to new team member, Katy.
Although we were very disappointed by the government cuts to the arts in Higher Education and their ongoing negative attitude that the arts are soft subjects, be re-assured ACA remains passionate about campaigning for the need of a broad and balanced curriculum for our children throughout their school life, and that we will continue to champion the huge benefits we believe the arts offer to every child's education and well-being, which help shape their sense of achievement, their sense of pride and their sense of fun.
With thanks and a Happy New Year to you all,
Vicky
ACA Young Voices
ACA Young Voices
In February 2021 we launched ACA Young Voices - a panel of 13 incredible young people aged between 7 and 17, set up in memory of our late patron Sir Ken Robinson. One of their first projects was to create a video on the theme 'Imagine If' as part of tributes to Sir Ken that took place in March:
We've discussed a whole range of topics with our Young Voices - from the environment to curriculum reform. In May they wrote an open letter to the Catch-Up Tsar Sir Kevan Collins, which you can read here. They have also sent in ideas for the next Children's Laureate and consulted on Wes Streeting's 10 by 10 proposal.
The Arts Backpack
The Arts Backpack
In May 2021 we completed our first pilotof the Arts Backpack in Fife.
Yo
u c
an read the final evaluation on our website here.
We want to say a huge thank you to all the schools, teachers and pupils who participated, to everyone who contributed their time and ideas to making the project happen, to Fife Council for their financial support, and particularly to the amazing Amanda Glover who was our schools' coordinator in Scotland. We hope to be back in person in 2022!
We would also like to thank everyone who supported our Crowdfunder through the Aviva Community Fund. We are looking forward to bringing the Arts Backpack toLeicester in 2022 with your financial support.
The J.M. Barrie Awards
The J.M. Barrie Awards
This year's J.M. Barrie Lifetime Achievement Award went to the wonderful Michael Rosen! The award recognises a lifetime's achievement in children's arts - congratulations Michael! The Outstanding Contribution Award was presented jointly to BAFTA Kids and Place2Be for their work supporting children's mental health and creativity throughout lockdown.
Missed the J.M. Barrie Awards this year? Not to worry! You can catch up on the virtual awards ceremonies with the videos above and below. We are keeping everything crossed that we can be back celebrating with you in person next year...
BAFTA Kids and Place2Be win the Outstanding Contribution Award 2021
We are delighted to announce that we are presenting the ACA Outstanding Contribution to Children's Arts Award 2021 jointly to BAFTA Kids and Place2Be. This is in recognition of the incredible partnership they have shared since 2017 in promoting mental wellbeing and the importance of creativity in young people's lives. Activity has been delivered through the BAFTA Kids roadshow with Place2Be, visiting schools in England, Scotland and Wales. The roadshow includes a 'Behind the Scenes Assembly' and a 'Presenting Masterclass' led by special guests from the world of children's television.
During the Covid-19 pandemic the charities launched BAFTA Kids at Home with Place2Be for the many children at home during the pandemic. As part of the project, BAFTA Kids TV presenters including Ashley John-Baptiste, Ben Shires and Arielle Free shared their favourite films, TV shows and characters, alongside activity ideas for families. The charities also delivered a hugely successful campaign to support Place2Be's Children's Mental Health Week on the theme of Express Yourself.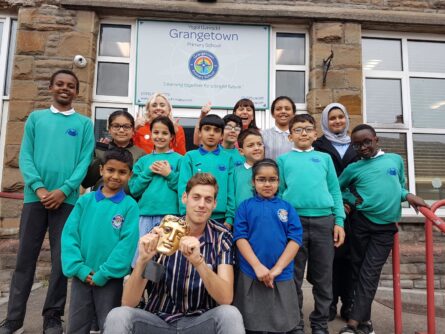 On the decision to present the award to these organisations, ACA Chair Vicky Ireland MBE said, "At a time when the mental health of our nation is in crisis, we salute the work of these two marvellous organisations and all they are doing on behalf of children in the UK".
Catherine Roche, Chief Executive at Place2Be added, "We are absolutely thrilled and honoured to be the joint recipients of this award. Through Place2Be's partnership with BAFTA Kids, the Roadshow has inspired and boosted the confidence of children in schools across England, Scotland and Wales, with a range of activities led by special guests from children's television."
The Award will be presented virtually in autumn 2021. We will also be presenting the J.M. Barrie Lifetime Achievement Award to writer Michael Rosen, in recognition of a lifetime spent delighting and inspiring children and young people.
An open letter to Sir Kevan Collins
Dear Sir Kevan,
We are Action for Children's Arts Young Voices: a group of young people aged 7 to 17 who meet every month to discuss issues concerning children's arts and education.
Firstly, thank you for taking on the role of Catch-up Tsar along with the huge pressure, expectation and responsibility that it involves. Following a number of Young Voices meetings about summer 'catch-up' we wanted to write and share our thoughts and concerns about the summer holidays:
We believe that any education offered over the summer holidays should be optional. The last year has been difficult, and children need to be given the opportunity to relax and recover over the summer holidays. We acknowledge that there are some children who have fallen behind in the last year, for whom intervention might be useful and appropriate. When deciding which children qualify for 'catch-up' we ask you to take their circumstances into account, for example whether they are struggling with their mental health (in which case the pressure of extra school might do more harm than good).
Delivery of summer 'catch-up' should be flexible. We believe that the idea of 'catch-up' would be more appealing to children and their families if delivery was spread out over the summer holidays. This would still allow for families to organise time away together, and for children to have some much-needed downtime between 'catch-up' days in school. For the same reason, it would also be better if catch-up sessions did not last a whole school day.
Children at transition points or who are about to take important exams should be prioritised. 'Catch-up' delivery should focus on children transitioning into year 7 - particularly those who are starting at new schools - and young people going into year 11 and 13 who have important exams coming up. If there is extra resource, children who went into year 7 in September 2020 should also receive the offer of 'catch-up' as they have not had much of a chance to adapt to the transition from primary to secondary school in the last academic year.
The 'catch-up' curriculum should include extra sport and creative activities. In the spirit of a fun and relaxing summer holiday, any 'catch-up' that takes place should be an opportunity to do more enrichment activities. We feel that these are the activities that suffered most during the lockdown, as they are harder to do in isolation. In addition to this, we believe that additional creative and physical education would present a great chance to help young people who are struggling with their mental health, or those at transition points (for example entering year 7) who are concerned about making new friends.
Any 'catch-up' on offer should be free. We must maintain our right to free education, including the provision of free school meals.
Where possible, we should be taught by our teachers. We believe it is important that those who are giving us knowledge and nurturing us are people we know, trust and have a good relationship with. This is particularly vital for children with additional support needs. If we are working with teachers who do not know our learning styles, much of the 'catch-up' time will be wasted getting to know each other and trying to communicate what works best for us in the classroom.
Our teachers should be properly paid for their contribution to the 'catch-up' effort. This has been a really hard year for teachers - we should be focusing on how to support them and improve their working conditions, not asking them to do more work for little or no return.
We look forward to hearing your response to our suggestions and want to thank you again for taking on this very important task.
Yours sincerely,
ACA Young Voices
The Arts Backpack UK - Fife pilot
Today marks the release of the final report for The Arts Backpack UK - Fife pilot. This report evaluates our preliminary pilot of The Arts Backpack UK, which we ran in Fife, Scotland from October 2020 - March 2021. Click here to download the report.
The key findings of the report are:
The Arts Backpack UK can successfully foster arts and culture in areas where children may experience barriers to provision.
The Arts Backpack UK has a clear value for the teacher and their professional development and confidence.
The Arts Backpack UK can be presented as being about the art-forms, or as a way of engaging with curriculum topics, or a well-being agenda.
Local partners (teachers and cultural organisations) can help co-design the contents and influence its make-up according to each location.
This pilot builds on our 2018 Feasibility Study, testing the recommendations of that study in context. We worked in five schools in the Fife Coalfields area with children in classes P4 to P7 (aged 8-11). At the beginning of the project, our plans did not anticipate the full extent of the second wave of Covid-19 and the new lockdown restrictions which meant that children were being home-schooled from January to March 2021. As a result of this, the pilot was largely redesigned to be delivered online.
The pilot demonstrated the value of The Arts Backpack UK for teachers, as well as their pupils. All of the teachers who engaged with the project noted how their confidence in delivering arts and cultural activities had increased over the course of the project. Their feedback about student response was also positive:
They were able to see pieces of art that they wouldn't normally get to see, especially during COVID. Children were keen to go and look further on the websites to see other pieces of art. (About a Magic Lantern Art activity)

Children who normally would stay quiet and avoid music tasks were smiling and engaging and the children enjoyed sharing their creations with their peers and the staff. (About Google Chrome Music Lab)

They enjoyed being able to tell a story, that they created, in a different way. Other children liked that they could be more creative than they would in a standard piece of writing and that there were no right or wrong ways to create their comic book. (About V&A Dundee 'Create a Comic Book')
Many thanks to all the teachers and pupils who took part in the project and contributed to this report. Thank you to the young people at Chickenshed Theatre and the readers of First News for their valuable contributions to pilot planning. Our thanks also to the Worshipful Company of Haberdashers and Fife City Council for their generous financial support.
We are currently planning a second-phase of pilots to take place in the 21/22 academic year.