BAFTA Kids and Place2Be win the Outstanding Contribution Award 2021
We are delighted to announce that we are presenting the ACA Outstanding Contribution to Children's Arts Award 2021 jointly to BAFTA Kids and Place2Be. This is in recognition of the incredible partnership they have shared since 2017 in promoting mental wellbeing and the importance of creativity in young people's lives. Activity has been delivered through the BAFTA Kids roadshow with Place2Be, visiting schools in England, Scotland and Wales. The roadshow includes a 'Behind the Scenes Assembly' and a 'Presenting Masterclass' led by special guests from the world of children's television.
During the Covid-19 pandemic the charities launched BAFTA Kids at Home with Place2Be for the many children at home during the pandemic. As part of the project, BAFTA Kids TV presenters including Ashley John-Baptiste, Ben Shires and Arielle Free shared their favourite films, TV shows and characters, alongside activity ideas for families. The charities also delivered a hugely successful campaign to support Place2Be's Children's Mental Health Week on the theme of Express Yourself.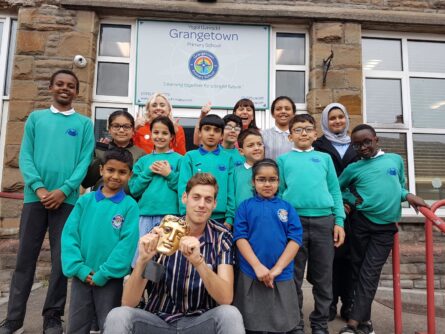 On the decision to present the award to these organisations, ACA Chair Vicky Ireland MBE said, "At a time when the mental health of our nation is in crisis, we salute the work of these two marvellous organisations and all they are doing on behalf of children in the UK".
Catherine Roche, Chief Executive at Place2Be added, "We are absolutely thrilled and honoured to be the joint recipients of this award. Through Place2Be's partnership with BAFTA Kids, the Roadshow has inspired and boosted the confidence of children in schools across England, Scotland and Wales, with a range of activities led by special guests from children's television."
The Award will be presented virtually in autumn 2021. We will also be presenting the J.M. Barrie Lifetime Achievement Award to writer Michael Rosen, in recognition of a lifetime spent delighting and inspiring children and young people.
BAFTA Kids and Place2Be win the Outstanding Contribution Award 2021